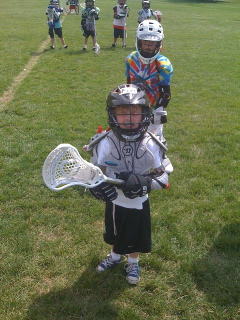 Mighty Mites
FAMILY. EDUCATION. LACROSSE.
Since 2004, The Denver Lacrosse Club, DLC,  has been introducing children to lacrosse in a fun and semi-competitive environment where girls and boys develop friendships, learn teamwork, and gain confidence.  We call this incredible program, Mighty Mites Lacrosse.
It's really JUST FOR FUN!
S
mall kids will be drawn to lacrosse because it's fun to play. If you (the parent or coach) can think like a kid, you'll know that playing lacrosse is much more fun than being taught lacrosse.  So with our little ones, we put less emphasis on competition, and more emphasis on skill development and discovery.  The Mighty Mites program is designed for children ages 4-7.
Players will learn the basics of the game such as throwing, catching, cradling and shooting.  Children will also enhance motor skills development, practice physical fitness and gain self confidence.  Once a week, there is an hour-long session that includes a half-hour of "drills" and a half-hour scrimmage (2nd half of the program), run by our volunteer coaches. 
Our program is open to all children enrolled in Denver Colorado schools, with an interest in learning the fastest game on two feet. This program provides an introduction to lacrosse, as well as an opportunity for children and parents to meet other "lacrosse families" in their school district.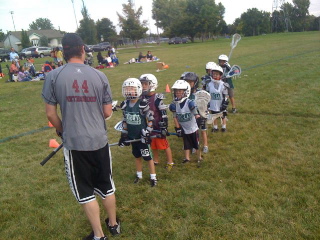 DLC MIGHTY MITES REGISTRATION
DLC Mighty Mites is generally played on Friday Evenings in Spring Summer & Fall
SPRING BOYS
THANK YOU FOR YOUR INTEREST IN DLC SPRING 2018 BOYS MIGHTY MITES
Tuesdays               STARTS APRIL 3
"Early" 4-515pm  
"Late" 530-645pm           
Fridays                   STARTS APRIL 6
"Early" 4-515pm 
"Late" 530-645pm
6 WEEKS
Cranmer Park  (3rd & Clermont)
$125  (jersey included)
 personal protective equipment NOT included
MIGHTY MITES SPRING BOYS
***SPRING 2018 BOYS MIGHTY MITES

TUESDAYS STARTS APRIL 3

FRIDAYS STARTS APRIL 6***
GIRLS
Mighty Mites is for girls in Kindergarten-2nd grade and is meant to be an introduction to girls' lacrosse.
Questions? Want to help coach the girls?
Contact Billy Corbet 303-378-1488 insideoutfitness@aol.com
SPRING GIRLS MIGHTY MITES 2018:
Practice is on Fridays for 6 weeks starting April 6.
There is a head coach that runs the practices, but we are also happy to have parent helpers.
The emphasis is on learning the basic lacrosse skills for girls and we utilize stations to practice the skills.
This fall 2017 season, we will be practicing at Cranmer Park. 
The program times will be from  4:30-5:30.
The session will be limited to 35 players. This program fills up quickly, especially the early session, so register early. Your spot is not reserved until payment has been made.
Program cost is $125 and includes a jersey. Register HERE.
Girls must have their own equipment
*girls' lacrosse stick
*goggles
*mouthguard-NO clear or white mouthguards and NO patterns of teeth on a colored mouthguard
MIGHTY MITES SPRING GIRLS
FALL BOYS
THANK YOU FOR YOUR INTEREST IN DLC FALL 2017 BOYS MIGHTY MITES
Starts Friday Sept 8  6 weeks
Fridays
"Early" Session is FULL
"Late" 530-645pm
COOK Park  (Cherry Creek Drive S & Monaco)
$125
MIGHTY MITES FALL REGISTRATION
SPRING 2018 REGISTRATION BEGINS November 1 2017
cost $125
SUMMER BOYS
THANK YOU FOR YOUR INTEREST IN DLC BOYS MIGHTY MITES
SUMMER 2017 REGISTRATION begins May 1, 2017
Boys ages 5-7 years old learn to play the most exciting game on the planet
Central Denver Location
EASTMOOR PARK 6865 E Princeton Ave  (Eastmoor Drive & Quincy st Across from Eastmoor swim & Tennis Club)
Friday evenings only   4:00-5:15pm OR 5:30 -6:45pm
Starts June 9    6 weeks
$125
Equipment needed for boys: Helmet, shoulder & arm pads, gloves, stick
dress athletically,  bring water
MIGHTY MITES SUMMER BOYS
DLC BOYS MIGHTY MITES SUMMER 2017 
registration starts May 1st
MIGHTY MITES EQUIPMENT

BOYS MIGHTY MITES EQUIPMENT
A reversible uniform is included. Participants must provide personal protective equipment: helmet (certified ice hockey helmets are acceptable for MM), shoulder & arm pads, and gloves, and lacrosse stick. NO 'fiddle sticks' please.